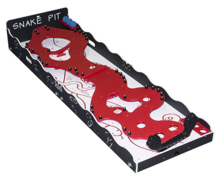 Snake Pit
$65.00
Dimensions:
Outlets:
Monitors:
Snake Pit is perfect for older kids because it's one of our more challenging games. The object is to land the ball in one of the target holes without falling into the snake pit below. How many points can you score with your three tries??



Please note that this game works best on a Table Top – If you would like a Table, Please request one
when placing your order.