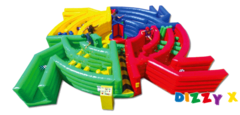 Dizzy X
$750.00
Dimensions: 30ft x 30ft x 10ft
Outlets: 2
Monitors: 1
Price shown Includes:
1 Staff Member
2 hour rental
Set-up & Take Down
Add $150.00 for each additional hour
Delivery fee may apply

We cannot get enough of our action games; introducing Dizzy X the crazy action obstacle course from Bounce Houses Ohio!

Four players get a pre designated color and they take their place on the Dizzy Disc, a multi colored carousel. The participants are spun around until they are dizzy, then the race starts and the first person to find their way to the end of their colored section wins!