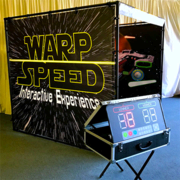 Warp Speed
$245.00
Dimensions: 7'H x 7'W x 7'D
Outlets:
Monitors:
Warp Speed is out of this world FUN! This space themed game is a high impact, fast paced adventure.
From the moment players enter the cubical, they are surrounded by colorful graphics, lights and sound effects. It is more than a game; it's an experience.
Warp Speed features 3 different fast-paced games ("Light Hunter," "Steal the Light" and "Back to Base"), and is perfect for all ages.